Reporting on 2020 Activities
The table below summarises VinylPlus' progress and achievements in 2020 in each of the five key sustainability challenges identified for PVC on the basis of The Natural Step's System Conditions for a Sustainable Society. Click through the table to learn about each challenge's subsections, and the work VinylPlus has put into each and every one of them.
See also our Progress Report, the brochure VinylPlus at a Glance and our Infographic.
Controlled-Loop Management
Organochlorine Emissions
Safe Transport
There were no transport accidents in Europe with VCM release in 2020, thus achieving the target of zero accidents over the 2011-2020 decade.
PVC Resin Industry Production Charters
In 2020, ECVM members achieved full compliance with the industry charters for suspension (VCM and S-PVC Charter) and emulsion (E-PVC Charter) PVC, aimed at reducing environmental impact in the production phase.
In 2019, the two charters were updated, taking into account the current best available techniques, and unified into a single document: ECVM Industry Charter for the Production of Vinyl Chloride Monomer and PVC.
The updated Charter includes two new commitments: to limit workers' exposure to VCM as much as technically feasible and to participate in the Operation Clean Sweep® programme by applying the auditing method adapted to PVC plants.
The PVC resin industry is committed to achieving 100% compliance with the updated Charter by the end of 2021.
Sustainable Use Of Additives
Stabilisers
In October 2018, ESPA appointed VITO to conduct a life-cycle assessment for Ba-Zn and Ca-Zn liquid mixed-metal (LMM) stabilisers, mainly used in flexible PVC applications. The final report was issued in November 2019 and concluded that LMM stabilisers have a low impact, given their very low content into the final PVC articles, and the fact that their current components have been designed to fulfil with the REACH requirements. Overall, LMM stabilisers contribute between 0.1% and 3% in all impact categories for a PVC product. On this basis, and taking into account the beneficial properties they provide to the final articles in terms of aesthetic appearance, durability and recyclability, LMM stabilisers can be considered an appropriate family of additives for sustainable use.
Pb (Lead) Replacement
Sales by ESPA members of lead-based stabilisers in the EU-28 market ceased in December 2015.
The recycling of rigid PVC articles produced after this date is thus no longer affected by lead legacy issues, and the average lead concentration in mixed streams of pre- and post-2015 recyclates is constantly decreasing.
Plasticisers
Estimates by European Plasticisers confirm a constant growth (a 33% increase compared to 2005) in the use of high molecular weight (HMW) orthophthalates, cyclohexanoates, terephthalates and other plasticisers in Europe, together with a progressive decline in the use of low molecular weight (LMW) orthophthalates. Given the large tonnages involved, the transition from SVHC (Substances of Very High Concern) LMW phthalates to more innovative, safe and sustainable non-SVHC HMW phthalates and other plasticisers has involved major investment (over €6 billion) by the European plasticiser industry over the last 25 years. Hazard and risk assessments were conducted on the alternative plasticisers during this period by regulators with the involvement of all stakeholders via public consultations and meetings. This is a remarkable example of how an innovative, safe and sustainable transition can be achieved with the involvement of regulators, industry and all stakeholders, and in compliance with EU competition law.
Studies and Research
European Plasticisers is committed to robust weight-of-evidence science and is constantly engaged in fostering a sound scientific debate around plasticisers. To encourage research activities and raise awareness of the safe and sustainable use of plasticisers in the younger generation, in January 2020 European Plasticisers, with the support of VinylPlus, launched a call for the best essays on plasticisers and flexible PVC. The project – called Hands on Vinyl: Students of Today, Experts of Tomorrow – attracted several interesting works from Bachelor, Master and PhD students at Belgian, German and Italian universities. A selection panel composed of industry experts reviewed all the papers and appreciated the high quality of the essays submitted, as well as the dedication and commitment of all the authors. The winners were Federico Acciaretti and Andrea Pasquale of the University of Milano-Bicocca, Italy, with a work on bio-based processes to synthesise di(2-ethylhexyl) adipate (DEHA).
A scientific project aimed at developing PBPK (physiologically-based pharmacokinetic) models for several plasticisers was started in 2017 by European Plasticisers and co-funded by VinylPlus. The objective was to demonstrate the safe use of plasticised PVC and support scientifically solid risk assessments. The PBPK model for DINCH (Di-isononyl cyclohexanoate) was published in November 2019, and the model for DINP (Di-isononyl phthalate) was published in August 2020. PBPK models for DEHT (Di-octyl terephthalate) and DPHP (Di(2-propyl heptyl) phthalate)/DIDP (Di‐isodecyl phthalate) are being validated. PBPK models for DEHA, DINA (Di-isononyl adipate) and DBA (Di-n-butyl adipate) will follow, taking into account their differences compared to the phthalates identified in recently published studies.
A Systematic Comparison of the Male Reproductive Tract in Foetal and Adult Wistar Rats exposed to DBP and DINP in Utero during the Masculinisation Programming Window was undertaken at the University of Edinburgh and published in the peer-reviewed journal Toxicology Letters in December 2020. It concludes that DINP does not cause the adverse reproductive effects known to occur with DBP (Di-n-butyl phthalate), a Category 1B Reproductive Agent, which is an SVHC and an endocrine disruptor under REACH.
Regulatory Updates
As reported in last year's Progress Report, the updated EFSA risk assessment of the phthalates DBP, BBP (Butyl benzyl phthalate), DEHP (Di(2-ethylhexyl) phthalate), DINP and DIDP for use in food-contact materials (December 2019), concluded that "current exposure to these five phthalates from food is not a concern for public health". Nevertheless, based on the limited scope of the mandate and the uncertainties identified, the EFSA's CEP Panel considered that the current assessment of the five phthalates, individually and collectively, should be on a temporary basis. Further evaluations of a broad range of plasticisers (39 in total) are now in progress.
In November 2020, EFSA received a new mandate from the EU Commission and will now address the limitations of the work carried out in the previous mandate: prioritise and identify phthalates, structurally similar substances and replacement substances; and establish a protocol for dietary exposure assessment to and hazard assessment of the prioritised substances. European Plasticisers will keep providing data and other relevant information as appropriate.
In 2020, European Plasticisers contributed to the European Commission public consultation on amending the Authorisation List (Annex XIV of REACH) entries by adding the four phthalates DEHP, BBP, DBP and DIBP for their endocrine disrupting properties. Since these four phthalates were already on Annex XIV for the same adverse effects (reproductive effects), European Plasticisers expressed concern for the over-regulation of these substances. Once the European Commission decides on the amendment, some previously REACH-exempted uses will require authorisation. For example, if DEHP is listed as an endocrine disruptor for the environment, authorisation applications will have to be submitted for it to be used in food-contact materials and medical devices.
As of 7 July 2020, the use of the low molecular weight orthophthalates DEHP, DBP, DIBP and BBP has been restricted in articles produced in or imported to Europe. They cannot be used in a concentration greater than or equal to 0.1% by weight of the plasticised material.
Sustainable use of additives
The ASF (Additive Sustainability Footprint) is the methodology developed by VinylPlus and The Natural Step to proactively evaluate the sustainability positives and negatives of the additives used in PVC products across their whole lifecycles and to prioritise actions for further improvements in the additives' sustainability profiles.
The ASF methodology and criteria were peer reviewed by LCA experts and validated for the key additives used in a generic window profile formulation. In 2020, a specific Homogeneous Flooring Task Force was set up by VinylPlus and TNS, in collaboration with ERFMI, ESPA and European Plasticisers, to validate the ASF criteria for the key additives – stabilisers and plasticisers – used in a generic homogeneous PVC floor covering.
Now that the ASF criteria have been validated for the key additives used in generic rigid (window profile) and flexible (floor covering) PVC formulations, additives manufacturers will be able to use the ASF for their own products. One major strength of the ASF approach is that it can be used by any additive manufacturer willing to self-assess the lifecycle sustainability of their additives used in PVC products. A dedicated ASF team was set up to help the additive manufacturers use the ASF for their products, supporting the creation of internal teams and structures within the companies where needed.
Sustainable Use Of Energy And Raw Materials
Energy Efficiency
PVC resin producers committed to reducing their energy consumption for the production of EDC (Ethylene dichloride), VCM and PVC, targeting a 20% reduction by 2020.
As previously reported, in 2018 IFEU completed the second verification of ECVM members' energy consumption data, for the 2015-2016 period. The energy needed to produce one tonne of PVC decreased by an average of 9.5% compared to the baseline period 2007-2008. There was no progress since the previous verification of consumption data, which was for 2012-2013, and progress appeared to be levelling off. An investigation of the reasons showed that the energy use was nearing the thermodynamic limits of the monomer and polymer production processes.
As verified by IFEU, a 14.4% reduction in CO2 emissions for average PVC production was achieved between the baseline period and 2015-2016.
For converters, differences among products and production processes make it difficult to report on an average reduction in energy consumption across applications. Reporting is therefore related to internal surveys and revision of Environmental Product Declarations. However, across main applications such as window profiles, pipes, flooring, films and sheets energy consumption decreased between 16% and 26.5% compared to 2010.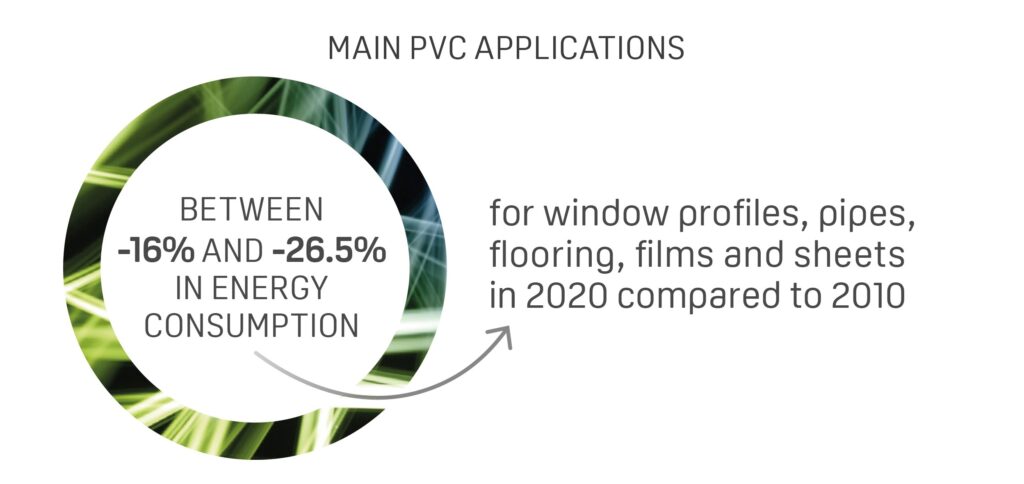 Energy savings were achieved through, among others:
Change of converting equipment motors from DC drive to AC
More efficient cooling systems using 'free cooling' in cold periods and countries
Intelligent control of pumps and ventilators
Reduction of rework and scrap
New LED lightning in factories and site area.
Moreover, several companies are also shifting towards renewable energy, investing in wind parks or solar panel farms.
Sustainable footprint
In 2012, VinylPlus established an ad hoc Task Force to assess the available methods to measure environmental and sustainability footprints and to recommend suitable footprint measurements. As reported in previous years, Task Force identified the EU Product Environmental Footprint (PEF) approach as a suitable method to measure environmental and sustainability footprints.
Renewable Raw Materials
Since the publication of its first Status Report on renewable raw materials in 2015,VinylPlus has continued to monitor developments.
Thanks to technical and scientific improvements, industry innovation, as well as changes in market conditions over the past few years, non-fossil-based PVC additives, compounds and applications are starting to become available.
VinylPlus committed to produce an update of the 2015 report on renewable raw materials by the end of 2020. In October, VinylPlus published its updated VinylPlus Status Report on Renewable Raw Materials 2020, which presents relevant information as available in mid-2020 and constitutes an input to the 2021 review of all VinylPlus voluntary commitment targets.
In October 2019 and February 2020, commercially viable bio-attributed certified PVC resins were launched on the market by two ECVM member companies.