The European PVC production and converting value-chain has been working hard since the mid-1990s to ensure that the sustainability challenges of PVC are tackled. Although there is still work to do in this area, PVC recycling has become an economically viable business.
Why recycle PVC?
PVC is well suited to recycling due to its advanced mechanical recycling properties.
Large volumes of recyclable PVC waste are available.
Using recycled PVC helps meet resource-efficiency targets and allows the preservation of natural resources.
Using recycled PVC reduces emissions and landfill.
In 2011, VinylPlus set a target of 800,000 tonnes of PVC to be recycled every year by 2020. In September 2018, VinylPlus backed the European Commission's call for industry pledges to increase the recycling of plastics by committing to recycle at least 900,000 tonnes of PVC per year into new products by 2025 and a minimum of one million tonnes per year by 2030.
Despite the severe market disruption provoked by the COVID-19 pandemic, in 2020 PVC waste recycling within the VinylPlus framework still reached an outstanding volume of 731,461 tonnes, only a 5% decrease from 2019. The majority of recycled PVC comes from window profiles and related products.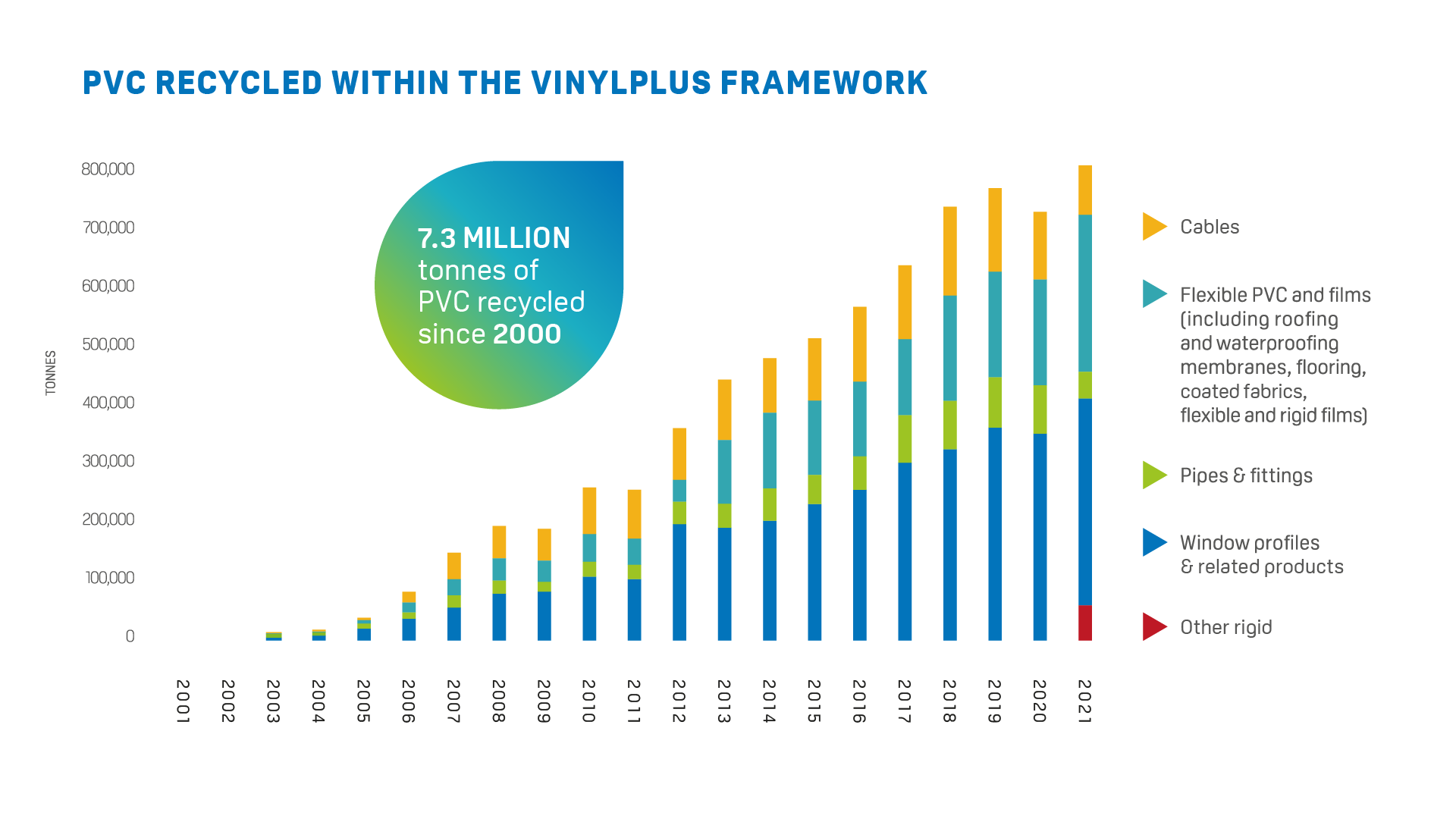 There are currently more than 100 operations in Europe which recycle PVC pipes, profiles, flooring, coated fabrics and membranes. The European PVC industry is dedicated to increasing this number.
Since 2000, 6.5 million tonnes of PVC waste were recycled in the framework of the European PVC industry's Voluntary Commitments, saving 13 million tonnes of CO2.