1 year of medical PVC recycling with VinylPlus® Med
09 February 2023
VinylPlus® Med celebrates 1 year of activity with 10 Belgian hospitals and around 1 tonne of PVC recycled.
One year ago, VinylPlus®, the sustainable development program of the European PVC industry, launched the VinylPlus® Med pilot project.
Started in the Brussels based Europe Hospitals with the aim of sorting and recycling single-use PVC medical material, the initiative has the advantage that both the environmental impact of the hospitals and their operating costs can be significantly reduced.
VinylPlus® Med developed a recycling scheme for single-use PVC medical devices in Belgium to help hospitals sort their PVC medical waste stream.
In one year of activity the project managed to collect and recycle around 1 tonne of clean discarded medical PVC. This result was made possible thanks to the collaboration of hospitals, adult day care centers, waste management companies, recyclers, and the PVC industry, working together to accelerate sustainability in healthcare across Europe.
In Belgium, the waste management company Renewi takes care of the transport and intermediate storage. Raff Plastics , an important player in Belgian plastic recycling, sorts and grinds the waste. The recycled PVC finishes at a processor which will convert it into new hospital applications: floor and wall coverings, yoga mats, shoe soles, equipment for rehabilitation, etc. All partners are located within a maximum radius of 200 km, to keep the distances and thus the ecological footprint as small as possible.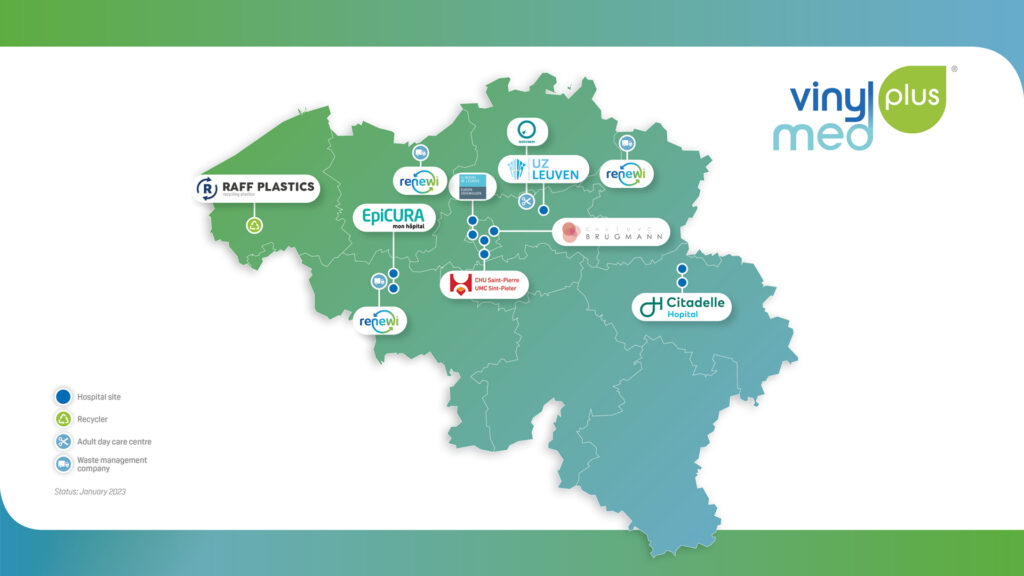 Across the hospitals network, high-quality PVC waste of various departments is collected and recycled; most of the waste has never been in contact with patients. Moreover, the VinylPlus® Med scheme focuses on clean and REACH-compliant PVC waste, that can be recycled into a wide range of value products marketed across Europe. Once at the recycling plant, infrared scanner allow to sort out the element containing ortho-phthalates from PVC consumables, made of a single layer of a single plastic, and thus easily recyclable.
VinylPlus® Med, launched some ten years ago, is now operational in 8 countries and is a first in Belgium.
"We obviously have contacts with all these countries to bring together the experience they have gained," explains Brigitte Dero, Managing Director of VinylPlus. "We didn't start from scratch. We wanted to improve flows and expand this pilot project to as many hospitals as possible in the country. We estimate the potential recyclable volume at 1,000 tons per year, or about a third of the PVC used in Belgian hospitals each year."
The interest in VinylPlus® Med and the awareness of environmental responsibility continues to expand in the healthcare industry. In the past 12 months, 10 hospitals have participated in the pilot project, and 35 hospitals are queuing to join this recycling programme.
Watch the recycling process video